25 May 2014
Captured Tracks vs Stockholm Monsters!
The
Stockholm Monsters
Captured Tracks
reissue which was
rumoured
back in December is confirmed with a plush package set for release on 15 July 2014. It's a double vinyl LP of classic Monsters material and it comes with a 7" vinyl single.
Tracklisting (Captured Tracks 201)
2LP
Terror
Where I Belong
Decalogue
Winter
Five O'Clock
All At Once
Life's Two Faces
Your Uniform
EW
To Look At Her
Something's Got To Give
National Pastime
Happy Ever After
Soft Babies
Miss Moonlight
The Longing
Lafayette
Militia
How Corrupt is RT?
Kan Kill
Dumbstruck
7" A-side
Fairy Tales
7" B-side
Death Is Slowly Coming
Labels: Captured_Tracks, Stockholm_Monsters
Happy Mondays & Hooky rock the Palace
The
Manchester Evening News
reports that
Happy Mondays
are to headline a special black tie fundraiser at the Palace Hotel in Manchester on 25 July 2004. Peter Hook and Graeme Park are guest DJs.
MEN says "The unique event has been organised to raise funds for Mondays star Paul Ryder's son Chico, who is battling cancer and undergoing treatment in the US. The Chico's Kicking Cancer Fundraising Ball is on July 25 and will include a four-course dinner in the glitzy ballroom before the band take to the stage."
Tickets are priced from £150 to £500 for VIP passes (including champagne reception and exclusive after-party) via the Palace box office (tel: 01706 650515).
Labels: charity, DJ, events, gigs, Graeme_Park, Happy_Mondays, Manchester, Palace_Hotel, Peter_Hook
Factory Night @ The Lexington 6 Sep 2014
After playing Alfresco in Blackpool yesterday with fellow ex-FACsters
A Certain Ratio
,
Section 25
return to London on 6 September 2014 for a Factory Night double-header with
Crispy Ambulance
The Lexington, London.
Tickets for this not-to-be-missed event are available to
buy now
priced £15.00 + booking fee via Stargreen.
Labels: Crispy_Ambulance, Factory_Records, gigs, Lexington, Section_25
The man the music the machines
The
Liverpool Radical Documentary Film Festival
presents an evening dedicated to ground-breaking record producer and sound explorer Martin Hannett - 'The Man The Music The Machines' on Sunday 22 June 2014 at 7.30pm at Leaf, Bold Street, Liverpool.
The evening includes a screening of '
He wasn't just the 5th member of Joy Division
', a film about Martin Hannett, an exhibition of Martin Hannett studio equipment and instruments and a Q&A session with film-maker Chris Hewitt.
Tickets are £5 on the door. After costs are covered, all money goes to the Hillsborough Justice Campaign.
Meanwhile, read the
Flipside Review of the Martin Hannett DVD
.
Labels: events, film, film_festival, Joy_Division, Martin_Hannett
10 May 2014
Hallowed Article #2 BOMARR & N8NOFACE
hallowed articles is an independent record label established in 2012 by London graphic designer Mark Holt, formerly of renowned studio
8vo
, and Seattle based Matthew Holt who produces electronic music under the moniker 'Denley' and in the groups Broken Figures and Latent Sea.
Hallowed Article number two is a 7-inch single by BOMARR & N8NOFACE comprising
Keep Me From Me
b/w
She Cries Cries Cries
. It's available to buy now via
Big Cartel
.
Hallowed Article number one,
Latent Sea 'Serial Chiller'
is still available.
More information at
hallowedarticles.com
.
Labels: hallowed_articles, Mark_Holt
Second Chronicle presale via Kooky
08 May 2014
Fab International Mick Middles Show
A Certain Ratio live at Manchester Academy
06 May 2014
A Chronicle XL Kooky update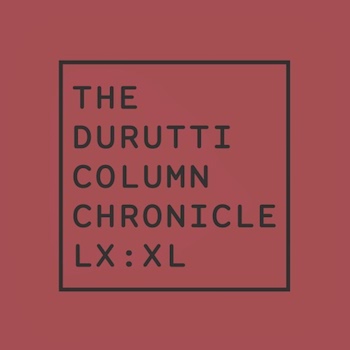 Kooky Records has published an important news update on
The Durutti Column
's new album
Chronicle XL
[->].
In summary, a further 320 copies will be made available via kookydisc.co.uk this Saturday evening at 19:00 British Summer Time priced from 27.00 GBP via the wonders of the glorious Buy it Now with Paypal Button.
Over to you Phil...
[->].
Also, check out and join in the discussion at the new
Kooky Records Facebook Page
.
Labels: Chronicle, Kooky_Records, The_Durutti_Column
02 May 2014
Tony Wilson by Stephen Wright photo prints
A new photographic portrait of the late great
Tony Wilson
is available to buy from Stephen Wright. It was taken by Stephen in the dressing room of FAC 51 The Hacienda in 1985 and comes in a limited edition of 500 12"x8" printed with a white border on 10x14" paper. The price is 125.00 GBP and includes a 25.00 GBP donations to Christies Hospital Manchester.
Also still available is the classic "
Paean To Wilson
" portrait of Tony with Vini Reilly for which the photo dimensions and pricing are the same.
More details and how to buy at
smithsphotos.com
[->].
Labels: photography, Stephen_Wright, Tony_Wilson, Vini_Reilly
01 May 2014
The Durutti Chronicle LX:XL Kooky presale
The long-awaited new album by
The Durutti Column
, Chronicle LX:XL will be available to pre-order in limited quantities whilst stocks last (and strictly one copy per person) from 23:59 British Summer Time on Friday 2 May 2014 direct from Kooky Records priced from 27.00 GBP.
For the full details it's over to
Kooky Towers
[->].
See also
thedurutticolumn.com
.
Labels: album, Chronicle, Kooky_Records, The_Durutti_Column
The Temple Of The 13th Tribe re-released
Juno Download
has announced that the first album by edgy ex-Facsters led by Mike Keane,
The Royal Family and The Poor
- 'The Project Phase 1 – The Temple Of The 13th Tribe' (originally released as
FACT 95
) will be released by Mannequin on 26 May 2014.
More info at
Mannequin Records Facebook
.
Labels: album, The_Royal_Family_And_The_Poor
Section 25 live in Blackpool, Bury & London
Following their very well-received (especially according to Dave Simpson's
4-star review
[->] in The Guardian) appearance at A Factory Night for Record Store Day, Section 25 have three more Spring/Summer 2014 dates lined up in Blackpool, Bury and that London.
Sunday 25 May -
Alfresco
[with
A Certain Ratio
and many more]
Monday 25 August -
The Met
, Bury [with
Kevin Hewick
and
Crispy Ambulance
, not yet on sale)
Saturday 6 September - The Lexington, London [
Buy tickets
priced £15.00 + booking fee]
See also
section25.com
[->].
Labels: A_Certain_Ratio, Crispy_Ambulance, gigs, Kevin_Hewick, Section_25
- - - -
Blogger Archives
- - - -
Spotlight - The Names
Post punk cult band The Names emerged in the winter of 1977-1978 as The Passengers, gathering immediate attention on the local Brussels scene. In 1979, after a series of successful gigs and a crucial step forward opening for Magazine, they recorded their first E.P. ("Spectators Of Life") and attracted the interest of prominent label Factory Records in Manchester.
Their first British studio session (at Stockport's Strawberry Studio) produced the single "Nightshift" / "I Wish I Could Speak Your Language (Fac 29). Receiving enthusiastic reviews in the UK and abroad, it marked the start of a long and fruitful collaboration with producer Martin Hannett. The album "Swimming" followed as well as more singles, including "Calcutta" and "The Astronaut".
- extract from the official website biography
The Names - Selected Discography